FOX Therapy
A major ingredient of happiness is physical wellness, which has led to our partnership with FOX Rehabilitation. Our locations feature physical therapy gyms with FOX personal trainers to help seniors maintain their balance and physical strength to reduce muscle atrophy. We also offer occupational therapy as well as classes to fortify mental strength and mental health. Some of our facilities also feature social classes to help keep seniors engaged with each other. Some minor features of this program may vary between facilities, however, the overall mission remains the same.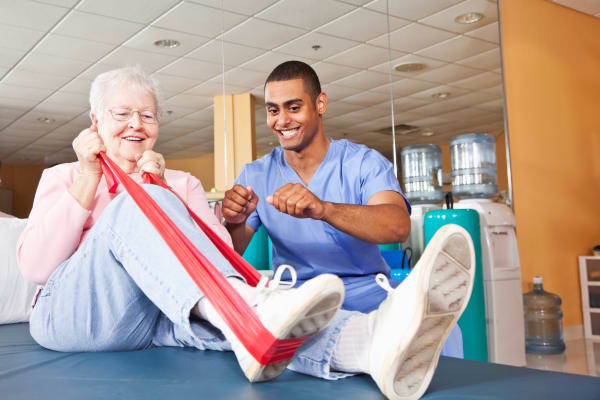 FOX Physical Therapy
We have partnered with FOX Rehabilitation because of their excellence when it comes to Physical and Occupational therapy. They specialize in physical therapy for older adults and have programs designed to help individual needs. They take evidence-based approaches to assess individual cases and create a Physical Therapy routine based on each resident's needs.
FOX Occupational Therapy
Occupational therapy is designed to help residents on daily tasks, as well as filling the day with activities and goals in order to retain a sense of meaning fulfillment in residents lives. Our residents will be able to have a FOX occupational therapist to critically assess their tasks and occupations and customize a treatment plan to achieve their goals.
Physical Therapy Goals
---
Reduce Risk of Falling
Reduce Muscle Atrophy
Decrease Dizziness
Increase Flexibility
Increase Endurance
Reduce Difficulty Walking
Increase Motor Functional Activity
Occupational Therapy Goals
---
Help with Daily Activities
Reduce Caregivers' Responsibilities
Enhance Quality of Life
Fall Reduction
Help Dressing, Bathing, and Grooming