Daybreak Program
Our Daybreak Program is based on the leading studies in dementia developed by Teepa Snow called the Positive Approach® to Care. For our seniors with Alzheimer's or dementia, we offer comfortable housing in a secure neighborhood featuring state-of-the-art innovations designed to help your loved one. The Positive Approach® to Care is built on the philosophy of meeting residents where they are, our staff is dedicated to focusing on what makes residents happy and what instills fulfillment. The path of Alzheimer's and dementia are not the same for everyone, and that's why we meet each individual resident where they are in terms of abilities and continue to modify their care routine based around changes in abilities, as staying in the moment is the most important part of this program, for both residents, friends, and family.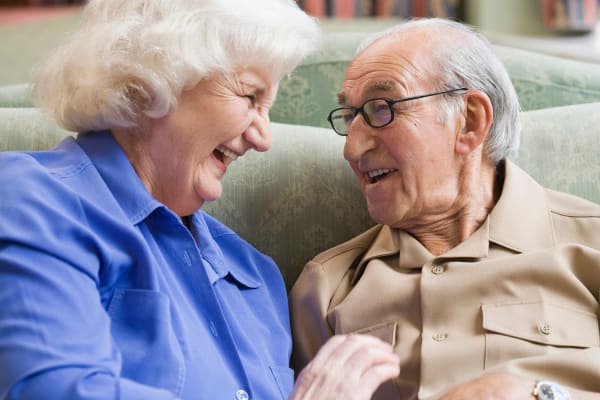 Positive Approach® to Care
Developed by Teepa Snow, one of America's leading dementia educators, the Positive Approach® to Care (PAC) is the code in which we treat to our Memory Care residents. All of our caregivers are trained in this advanced method of caregiving. What the PAC focuses on is each individual's retained abilities while providing the support that is needed. Building on this philosophy, Daybreak focuses on what makes our residents happy by continuing what they can do, instilling fulfillment at the moment. We encourage our care team, family, and friends to stay in the moment, every moment, as long as it may last for the resident.
Meeting Residents Where They Are
While Alzheimer's disease and the various dementias may have predictable paths, we know that no two patients experience them the same way. Every individual in our care is unique, which is why we get to know them all and give them the respect they deserve. Based on this philosophy, we develop personalized care plans based on each resident's individual needs and retained abilities. Moreover, these care plans are based on the most appropriate amount of support while promoting independence and honoring choices. We meet our residents where they are, joining them on their journey, modifying care plans as needs and abilities change.
Feeling at Home
Our Daybreak neighborhoods are built for instilling a calming, welcoming, and secure environment so our residents feel like they are home. With consistent teams and predictable routines, our residents enjoy a sense of safety and familiarity. Our staff is engaged and encourage residents to continue any hobbies, professions, or passions. We hold programs that help with music, arts and crafts, games, education, and more.
All Inclusive Care
---
For convenience and predictable costs, one monthly fee covers:
Apartment Rental
All Utilities (Except Phone and Cable)
24-hour Personal Care Assistance
Three Meals a Day (Including Snacks)
Structured Activities Program Designed for Memory Impaired
Wellness Program
Weekly Housekeeping and Laundry Services
Transportation to Medical Appointments
Maintenance